Our communication has been dramatically changed by technology. Before, people communicated face-to-face or by writing letters.
Today, email, text messages, social media, and video chats allow us to communicate instantly with anyone in the whole world. We have seen a profound impact on both our professional and personal lives due to this change.
Now we can work with clients, colleagues and employees in different time zones and connect with friends and family living far away.
In this article, I will write down the advantages and disadvantages of information and communication technology and discuss in details the positive and negative impacts of technology on communication.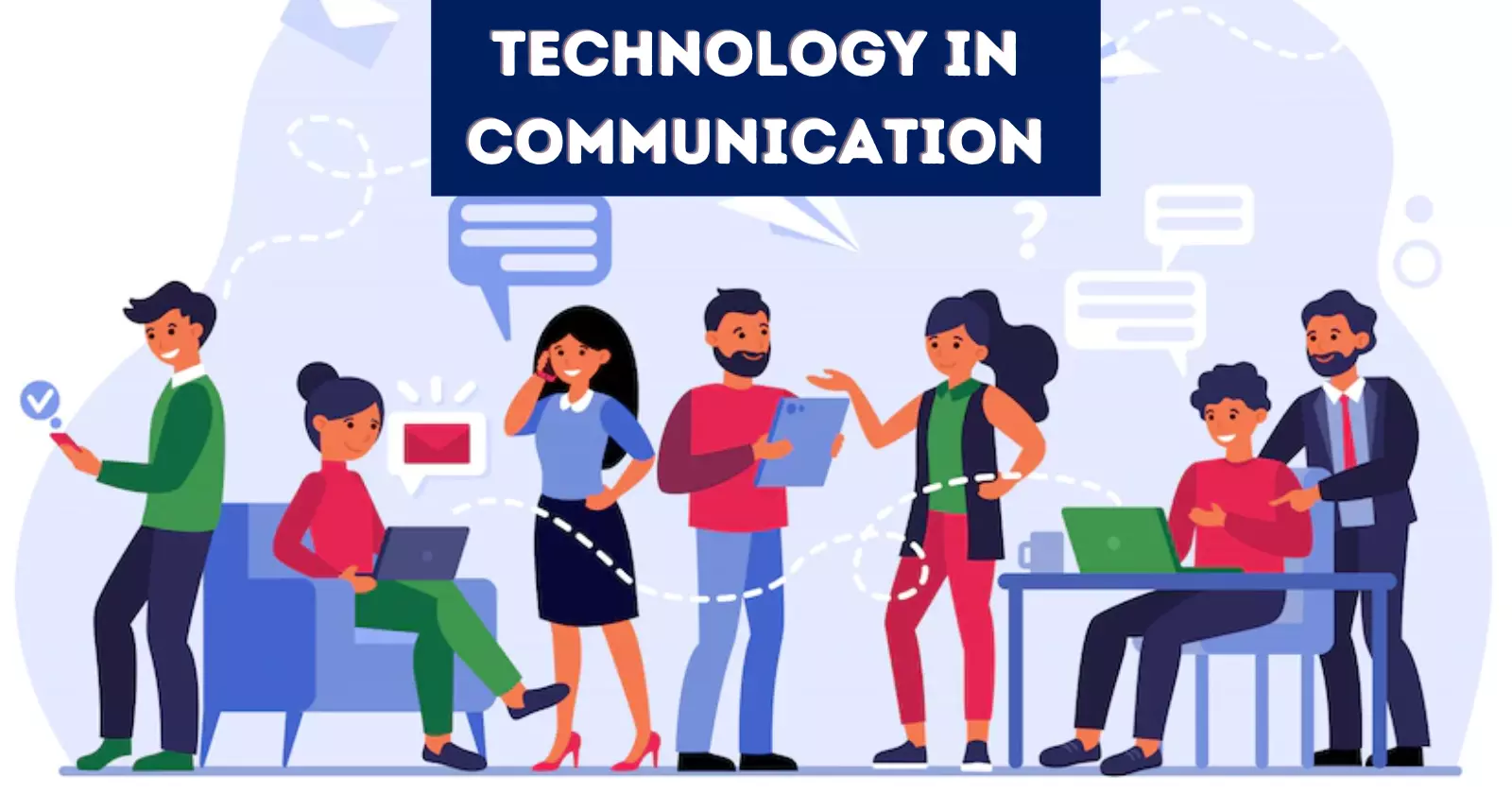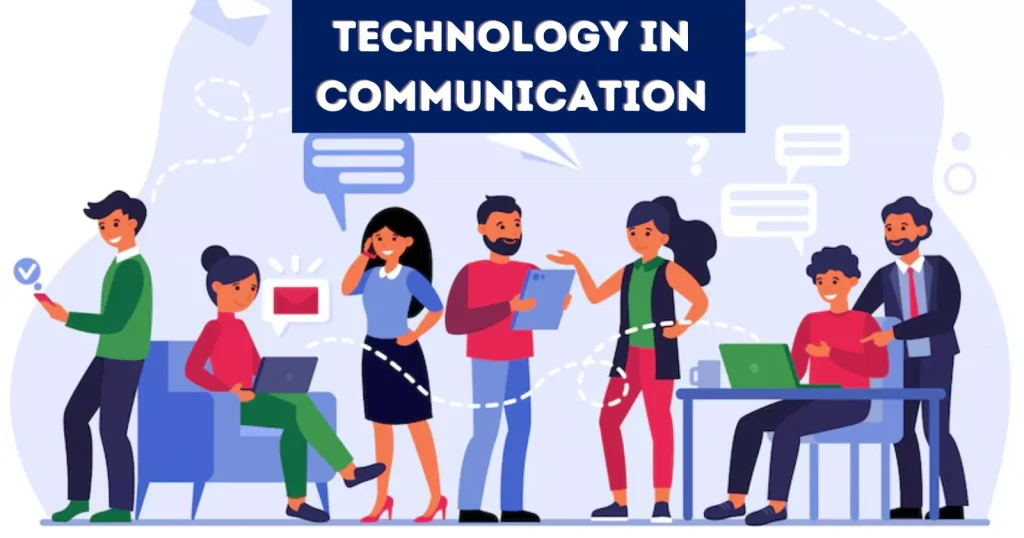 --Advertisement--
Advantages of Communication Technology
There are lots of good effects of technology on communication, following are the few of them.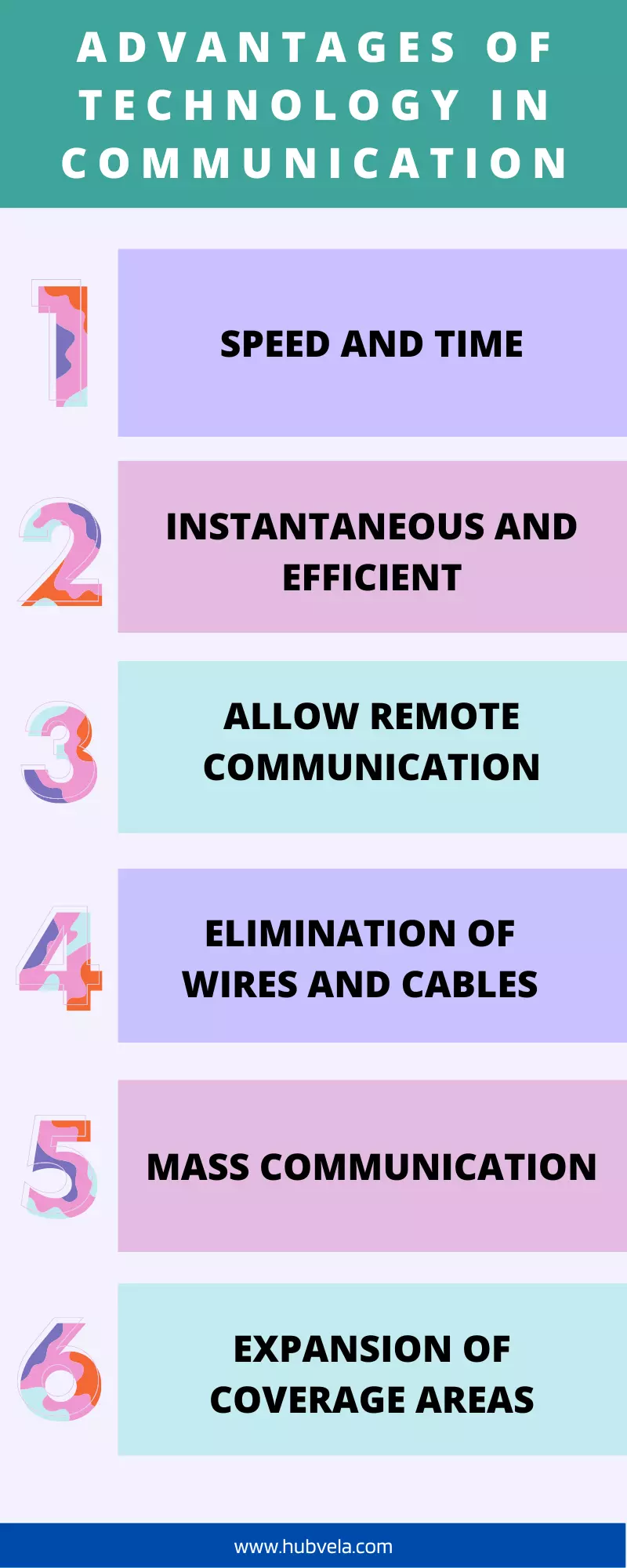 1. Speed and time
It is possible to save both time and money through internet communication. Information can be transferred much more quickly and cheaply this way.
Contacting a business partner or relative is also faster and more efficient. Today we can send and receive instant messages and emails at any time from anywhere in the world.
Face-to-face communication has also been made possible by the internet. A number of communication tools are available, including Skype, social media sites, video conferencing, and many others
2. Instantaneous and Efficient
Technology makes it easy to find and deliver data to your employees or customers wherever they are. Instead of waiting until your employee returns to your facility to send him complex information, you can text him or email him both simple and complex information on his smartphone or tablet
High-resolution pictures and videos can be provided quickly with digital still and video cameras to help your employees complete a task.
Customers' needs can be communicated promptly and they can receive real-time information on appointment status. Furthermore, she will be able to provide helpful feedback quickly, so you will be able to satisfy her needs as quickly as possible.
3. Allow Remote Communication
Communication over long distances is possible today just because of technology. You can communicate with people throughout the world like a universal language.
Technology gave us the ability to communicate without having to travel.
The speed and quality of communication also increase with technology. It is possible to communicate with anyone, anywhere in the world.
You can present your company's products or services to employees and clients anywhere in the world
4. Elimination of Wires and Cables
Cables and wires are becoming obsolete due to technological advancements. Everyone wants to eliminate wires and cables from the workplace.
Cables and wires are replaced with wireless technology which leads many people to choose technology for communication. It is possible to communicate without wires and cables thanks to technology.
5. Mass Communication
It is easy to share information with a large number of people through electronic communication, like email, or even you can use social media as well.
Electronic communication is common in businesses and academic institutions to communicate with many people at once.
For example, educational institutes send notifications to parents of students at once.
Some organizations also use digital marketing to reach advertisements to hundreds and thousands of people. We couldn't communicate as fast and easily as we do now without technology.
6. Reduced Costs and Time
It is a great advantage of technology that communication is now cheaper and faster as compared to without technology. People can save time and money while still can communicate with others.
Communication has become faster and easier thanks to technology. Lots of debates have been held over the past few decades about the future of communication and its impact.
Technology has a significant impact on communication, and it is very important for everyone especially students to study its effect and future applications.
7. Expansion of coverage areas
With technology, communication has spread to all parts of the globe, which has made it possible for the whole world to become like a small village.
Now, we can communicate with anyone around the globe in seconds like a village. Technology has removed the distance.
For example, a person in the USA can communicate with a person in China in seconds through mobile phones and emails. This all becomes possible due to advancements in technology.
These were some of the advantages of technology in communication. Now, let's discuss the disadvantages as well.
Disadvantages of Communication Technology
There are lots of bad effects of technology on communication as well, the following are a few of them.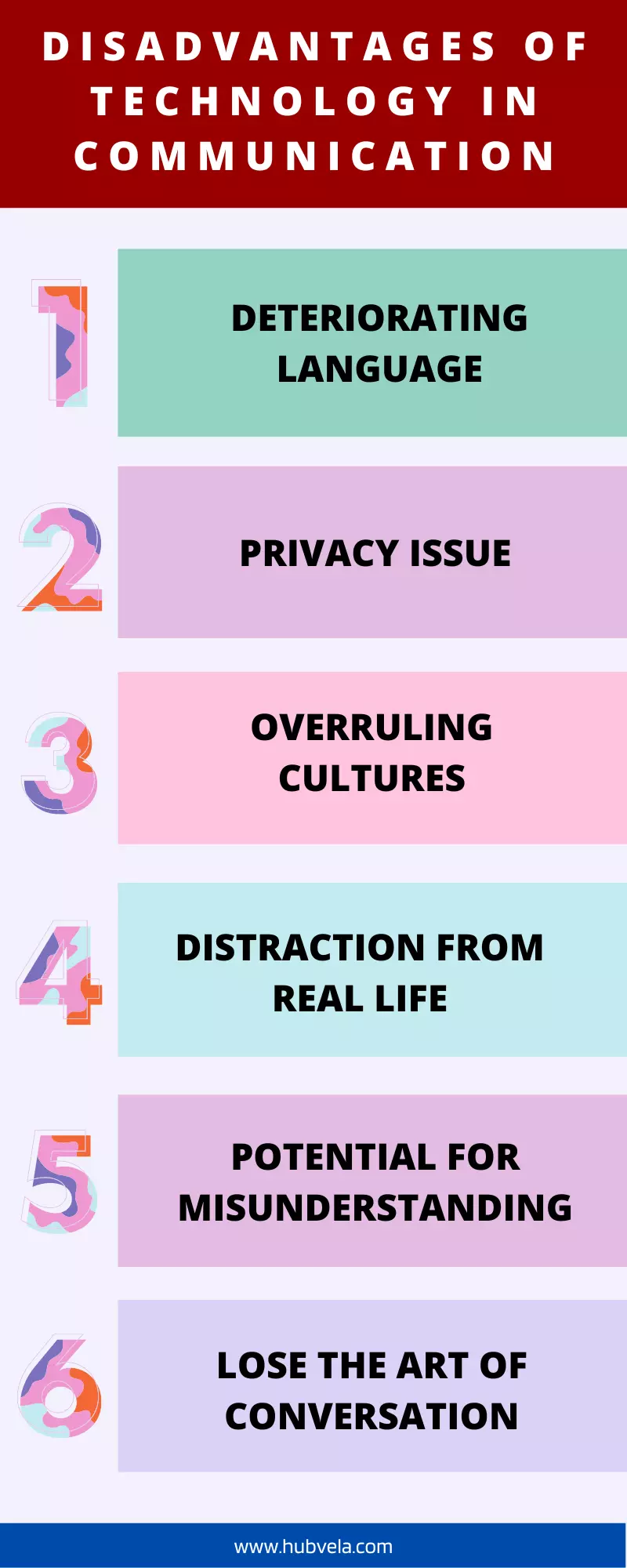 1. Deteriorating Language
There have been dictionaries, treatises, and books written about the vocabulary and peculiarities of text messaging and online slang.
People who do not speak English natively may find this slang extremely confusing which can make it hard to comprehend.
The habit of texting and chatting online can cause people to use it even in situations where it is inappropriate or out of place. Such as in school essays or business messages.
2. Privacy Issue
Technology in communication lacks privacy which is one of its most obvious disadvantages. Mobile phones can be used as two-way microphones and cameras as well as tracking devices.
Many phones now have GPS tracking capabilities, which can be used to track a person.
Today society is really strange as we constantly have our privacy violated.
Technological advances have made it possible for hackers and others to track, monitor, and spy on people in lots of ways.
As a result of technology, communication has changed and is often done in public or semi-public, which poses a privacy concern.
Due to the fact that email, the Internet, and cell phones do not display the voice and face of the person, it is easy for them to hide behind them. Also, it makes them anonymous from others.
3. Overruling cultures
Internet has created a global village, but some cultures have consumed others as a result. For example, the way people from western countries dress, act, and behave has influenced teens from other parts of the world.
Due to this fact, lots of cultures have vanished.
4. Distraction from Real Life
You may feel lonely and left out if you are sitting next to someone who is engaged in a heated text message conversation.
People who are engrossed in their gadgets can develop tunnel vision when using technology as their primary means of communication.
As a result, thumb talkers may neglect their jobs, neglect their relationships with friends and family and drive dangerously without realizing the bad results.
5. Potential for Misunderstanding
You lose the subtleties of body language and voice inflection when you communicate over the phone, computer, or other gadgets.
A wink or all caps at the end of a jovial text can show the severity of your message, but your words can still be misconstrued. Physical conversations also provide instant clarification.
6. Lose the Art of Conversation
Our society has lost face-to-face conversation due to technology. Getting the point across is as easy as a quick telephone call or text message.
As a result of technology, there are too many distractions that make conversing difficult. By using a phone or computer, you can be completely absorbed in the conversation, which detracts from its quality.
Friends and family are often kept in touch through social media. Face-to-face communication is challenging. A person's perfume or voice cannot be smelled or heard.
A real, face-to-face conversation can't be substituted for this type of communication.
Conclusion on Advantages and Disadvantages of Electronic Communication Technology
Thank you for reading the complete article. As far as the final verdict is concerned, you already know the advantages and disadvantages of technology in communication. It will be wrong to say that technology is only good or only bad for communication as we normally do in conclusion. If we use technology effectively and efficiently, it can be beneficial for our communication. It can be worst as well if we use it in a bad way.